Floor wiring duct 1m self-adhesive 70mms wide
A semicircular self-adhesive wire duct made of self-extinguish PVC.
No more problems with Trade Supervisory Centre because of tripping hazards.
Wherever cables and wires have to be applied subsequently,
this wiring duct gives more security!
All cables, e.g. telephone and EDP cables,
will be neatly run, arranged and saved from any harm.
This wire duct is characterized by its high abrasion resistance
and good resistance against chemicals.
The high temperature resistance also grants an application within higher environmental temperatures.
2-parts including top cover and base (can be re-opened and re-closed any time).
Available length: parts of 1 meter
Consistant temperature: -25 degree C up to +85 degree C
Flexibility in cold environment: no crack formation at -10 degree C
Elongation at break: 300%min
alternation of length: 10%
Puncture strength: 31 KV
Dimension tolerance /- 2%
Colours
white, grey, brown, light brown blended, dark brown blended
(very good suited for light or dark coloured laminate floors)
Sizes:
W = 70mms / W1 = 40mms / H = 17mms / H1 = 10mms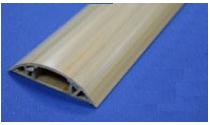 ATTENTION: there could be small differences between the colour in the picture and the original colour
caused by different incidence of light, brillance of the monitor, contrast adjustments etc.

Accessories: connetor elements
availble colours: white / grey / brown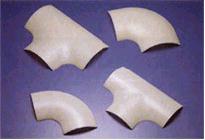 Inside corner, outside corner
Mid-way, end piece
Type "L" , Type "T"

Attention
Please consider the following facts when using self-adhesive products:
The surface should be smooth, dry and free of dust.
If possible, please use cleaning benzine!!
Contact pressure is more important than duration of pressure.
The adherence should only be burdened after two hours.
Applying the part below +10°C and above +30°C reduces the force of adhesion.
To avoid any inhibition, do not use this product on surfaces treated with silicone
paint or silicone detergents.
A semicircular self-adhesive wire duct made of self-extinguish PVC. No more problems with Trade Supervisory Centre because of tripping hazards.
Wherever cables and wires have to be applied subsequently, this wiring duct gives more security! All cables, e.g. telephone and EDP cables, will be neatly run, arranged and saved from any harm.
This wire duct is characterized by its high abrasion resistance and good resistance against chemicals. The high temperature resistance also grants an application within higher environmental temperatures.
Consistant temperature: -25 degree C up to +85 degree C - Flexibility in cold environment: no crack formation at -10 degree C - Elongation at break: 300%min - alternation of length: 10% - Puncture strength: 31 KV - Dimension tolerance /- 2%
Available in lengths of 1 meter - Sizes: W = 70mms / W1 = 40mms / H = 17mms / H1 = 10mms