Wire duct 37x16mms 1m self-adhesive
Material: High impact, rigid, self-extinguish PVC

Design: self-adhesive
Length: 1 meter
Internal dimensions of the wire duct:
• W1 - 30 mms
• W2 - 37 mms
• H - 16 mms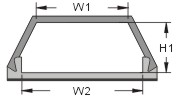 Available colours: white, brown, grey, black, light brown mixed, dark brown mixed

Please note regarding self-adhesive products:
Please consider the following facts when using self-adhesive products:
The surface should be smooth, dry and free of dust.
If possible, please use cleaning benzine!!
Contact pressure is more important than duration of pressure.
The adherence should only be burdened after two hours.
Applying the part below +10°C and above +30°C reduces the force of adhesion.
To avoid any inhibition, do not use this product on surfaces treated with silicone
paint or silicone detergents.
Please note regarding colours: there could be small differences between the colour in the picture and the original colour
caused by different incidence of light, brillance of the monitor, contrast adjustments etc.
Material: High impact, rigid, self-extinguish PVC
Design: self-adhesive
Length: 1 meter
Internal dimensions of the wire duct: W1 = 30 mms - W2 = 37 mms - H = 16 mms